Grants at the Community Foundation
The Capital Region Community Foundation is a public charity organized as a collection of permanent endowments. The income from these endowed funds is awarded to provide charitable funding to 501(c)3 nonprofit organizations and other eligible entities, for projects and programs that predominantly benefit residents of Clinton, Eaton and Ingham Counties, Michigan.
Webinars
For a guide to raising major gifts quickly, check out our Crisis Fundraising: Donor Conversations During Coronavirus webinar in collaboration with Nonprofit Network.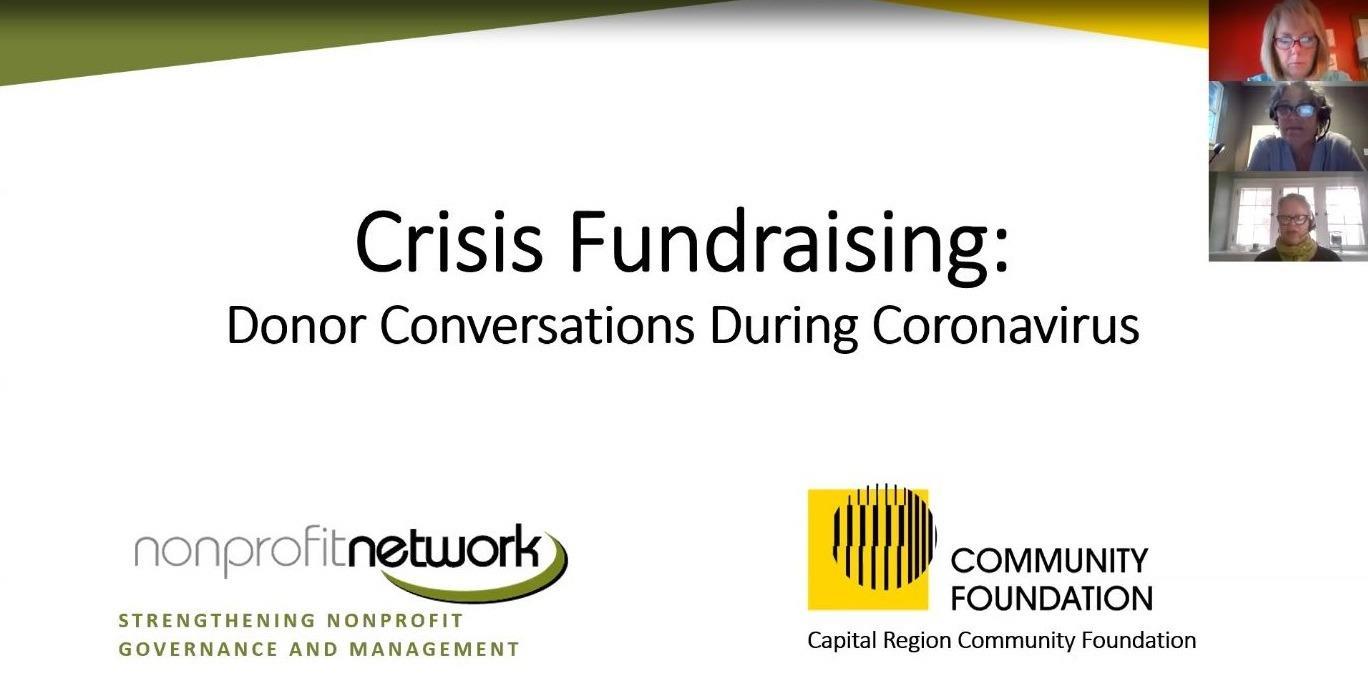 The Community Foundation offers several types of grants for qualified nonprofits:
---
Grant Guidelines
View the Grant Guidelines (.pdf)
Grants must be for projects and programs that predominantly benefit residents of Clinton, Eaton and Ingham Counties, Michigan.
To qualify for a grant from the Community Foundation's competitive grant process, your organization must have both of the following:
1. Federal tax-exempt status under Section 501(c)(3) of the Internal Revenue Code; OR you must apply through a fiscal agent that meets this criteria.

2. State of Michigan Charitable Solicitation License (unless your organization raises funds exclusively using volunteers and receives less than $25,000 a year; OR if your organization is designated by the State as an "other qualifying entity.") For information, please visit the Michigan Attorney General website.
Grant Categories
A nonprofit organization may qualify for multiple grant categories, however, only one grant application per category will be accepted from each organization.
Click each link for more details and forms.
Grants must be for projects and programs that predominantly benefit residents of Clinton, Eaton and Ingham Counties, Michigan.
Impact Grants: $10,000 - $75,000. Impact grantees are not eligible to apply in consecutive years. Impact Grants must fulfill a 1:1 cash match and must not be for routine operating expenses.

Capacity Building Grants: Up to $40,000. Capacity Building grants help an organization increase its sustainability and effectiveness by strengthening management systems and governance structures.

Mini Grants: Up to $5,000. These are reserved for organizations whose annual operating budget is no more than $350,000. Mini-grants may be requested for ongoing programming or projects. These requests are provided to the Foundation's donor-advised fund holders for consideration. Mini Grants are best suited to programs or projects that are not time-sensitive.
Youth Grants: Eligible organizations and programs will serve youth age 12-18 in The Greater Lansing area, St. Johns or Charlotte. The 2020 Youth Grants are by invitation only. To find out how you can obtain an invitation to apply for a Youth grant, please contact trussman@ourcommunity.org. The 2020 Youth Action Committee is especially interested in projects, programs and proposals that provide teens with skills to handle with the most pressing issues identified in the recent Youth Survey, which are:
Teen Mental Health (Depression, anxiety, suicide, eating disorders, etc.
Abuse (substance, sexual, emotional, racism, sexism, bullying, etc.)
Stress (academic, family, social, emotional, employment readiness, etc.)
---
What the Community Foundation Generally Cannot Fund:
Religious programs
Individuals
International organizations
Endowment funds
Existing obligations, debts or liabilities, incurred before the grant committee decision date
We regret that applications cannot be considered if:
Your program does not serve residents of Clinton, Eaton or Ingham counties in Michigan
You do not use our e-Grant system
You do not complete every question
You miss the deadline
You have an overdue Evaluation from a previous Community Foundation grant
Regarding Capital Campaigns
We will consider leadership gifts at the beginning of a capital campaign, to help leverage other giving. Please contact us for information.
Inclusion and Non-Discrimination
The Community Foundation values projects and agencies that promote inclusiveness and that do not discriminate in hiring staff or providing services on the basis of race, gender, religion, marital status, sexual orientation, age, national origin or disability.
---
Questions?
If you have any questions about the Community Foundation grants please contact us at 517-272-2870 or info@ourcommunity.org